MCA
To meet the high demand for IT professionals in the ever growing Indian and International IT industry, the Centre is leveraging its expertise and facilities to formal education in IT field also. The MCA programme at National Institute of Electronics nd Information Technology, Calicut is approved by the AICTE and affiliated to Calicut University.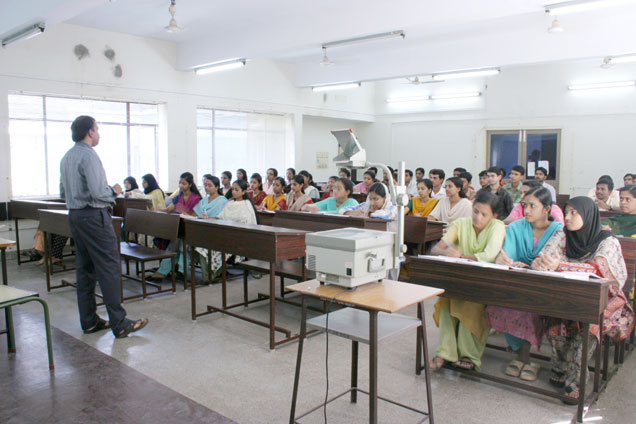 Admission  discontinued from 2013 onwards.
Faculty
The centre has a team of enthusiastic and competent engineers with post graduate qualifications. Most of our engineers have undergone specialized training in various International Universities / Industries.
Lab facilities  
The IT Lab is equipped with high-end Intel Xeon Dual Processor based servers and more than 100 networked PCs with internet facility. A variety of software is available which include Operating Systems like Windows 2000, XP, NT, SCO UNIX, Novel NetWare, Linux, VxWorks, RTLinux, QNX and development tools like Visual Studio .NET, BC++, Kylix, Rational Rose, Cold Fusion etc. RDBMS packages like Oracle and SQL Server are also available.
Library        
The centre has excellent library facilities with latest books and journals in the fields of Electronics and IT. Digital Library facilities are also being enhanced.
Project Facility
Students get opportunity to work on latest technology based industrial projects under the guidance of highly qualified and experienced faculty.
Placement Cell
The centre has set up a placement cell to facilitate campus recruitment by leading software companies. The placement cell will also advise the students on career planning and conduct training programs to develop soft skills.
Advanced Training Programmes
In addition to the academic syllabus, students will be provided opportunities for enrolling for Diploma level courses in Software Technology, VLSI Design, Embedded System Design, Software & Systems for Process Automation & Information Security
Hostel & Canteen
Limited hostel facility for ladies and gents are available. Canteen facility is also available for the students and staff.
Location
The Centre is situated close to the NIT (former REC Calicut) campus at Chathamangalam, about 20 Kms from Calicut city on Calicut-Mukkam road.
For more details contact
Vimala Mathew
Coordinator – MCA
National Institute of Electronics and Information Technology
Post Box No.5
NIT Campus PO
Calicut-673 601
Kerala.
Phone: 0495 2287178, 2287266, Fax # 0495 2287168,
Email:mca_admn@calicut.nielit.in
English