Infrastructure & Facilities
The Centre has the following infrastructure to carry out Training activities.
Computing Facilities
The Centre has elaborated computing facilities accessible to the students. There are four modern state-of-the-art, computer laboratories comprising of hardware configuration powered by latest Processors which are all connected to a campus LAN. There are high end Servers, high quality laser printers, network printers, scanners. The Organization has around 150 computers in six labs (IT and Electronics). The Campus LAN is connected to the Internet through a STPI 12 Mbps.
Smart Virtual Classroom is also there with high-end equipment. The Centre has a Video Conferencing Room and all NIELIT Centres across India can be connected through this facility.
Specialized Labs
The CISCO lab consists of around 16 PCs. The Lab has 1800 series routers, 2960   switches and 2 Wireless routers along with necessary cables and tools for carrying out the necessary practical's for CCNA courses.
Dedicated Hardware Lab is established in the Centre premises, so as to provide education to the students who want to build their careers in Hardware and Networking field. The Centre also has a well established lab for running Embedded System Design and  Electronic Product Design Courses for having hands on experience of designing & developing Electronic products.
Lecture Halls
The Centre has 8 spacious and fully furnished Lecture halls, each with a sitting capacity of 30 to 40 students. The classrooms are equipped with  white boards and state of art teaching aids. Overhead multimedia projectors are also installed in every lecture hall.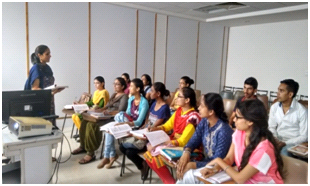 Library
The Institute's Library has a collection of essential books on Computer, Electronic and IT related subjects in English and Hindi. Manuals of different Software and Operating Systems are also available for the benefits of both the students and the faculty. An ample number of related journals and magazines are subscribed regularly along with a number of national and local newspapers.
Staff / Faculty rooms
There is one faculty room and one support staff room that have been interconnected with a set of intercom. Each staff member has a separate PC allocated to him/her which has Internet connection.
English