मूलसंरचना एवं सुविधाएँ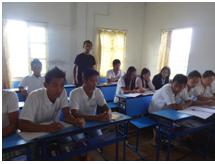 1. Class Rooms
At present the institute had three (3) class rooms with a capacity of more than 15 students per class room. White board and other educational aids such as projector are used in the class rooms for teaching the students.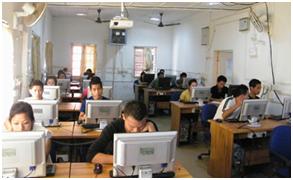 2. General Computer Laboratory
Software Laboratory 1.
This Laboratory has 20 computers which are loaded with Windows 7 OS & Multimedia Software. It has high end computers and is used for conducting Multimedia Classes, VB.NET, Web Designing & other advanced programming courses. A ceiling mounted projector is provided to facilitate the faculty & students for conducting the classes. All the systems are networked and are protected against virus, worms & other online attacks through a centrally monitored Escan Internet Security Suite Server.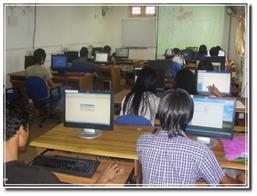 Software Laboratory 2
There are 24 computers in this Lab which are loaded with Windows XP OS and is used for conducting Office Package, Basic Programming etc. This Lab also has a ceiling mounted projector and is centrally monitored by the Kaspersky Antivirus Enterprise Edition.
Software Laboratory 3
There are 3 computers in this Lab & is loaded with Windows 7 OS and is used for project related works by the students. Students also make use of this lab for accessing Internet.
3. PC Assembly & Maintenance Lab.
In this lab, we provide facility for practising Assembling and De-assembling of PC, maintenance, installation of OS, software's, drivers and troubleshooting using different computer brands. It is equipped with basic electronic equipments like digital and analog multimeter, LAN tester, soldering and de-soldering pump and various trainers' kits. Training capacity is 10 students at a time.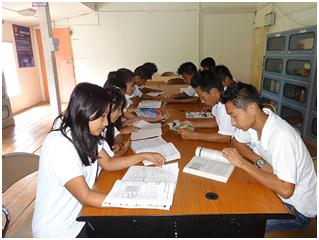 4. Library.
The library collection consists of books, periodicals, audio visuals and CD-ROM's. The library has more than 160 volumes of books (total 1500 books in total) on computer, electronics and allied fields. Students can borrow 2 to 4 books at a time. 
The library subscribes some of the popular tech & other informative magazines such as Digit, IC-Chip, PCQuest, Linux For You, Electronics For You, Time, Windows Media & Reader's Digest. Apart from these, NIELIT Extension Centre also subscribes Employment News, one National Paper and four local newspapers.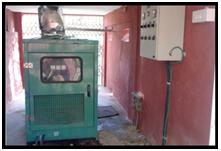 5. Power Supply and Backup
24 hrs Uninterrupted power supply is provided in the institute building. There is a 10 KVA online UPS systems installed and one 15 KVA silent DG set fully engaged for power backup system supported by proper electrification works and safety mechanisms. One 25 KV dedicated step transformer is installed mainly for the institute.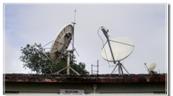 6. Internet connectivity
There are two Internet Service Providers (ISPs) connected to the Institute at present for providing Internet access. 512 Kbps VSAT based connection from ERNET India and DataOne Broadband connection from BSNL.
English